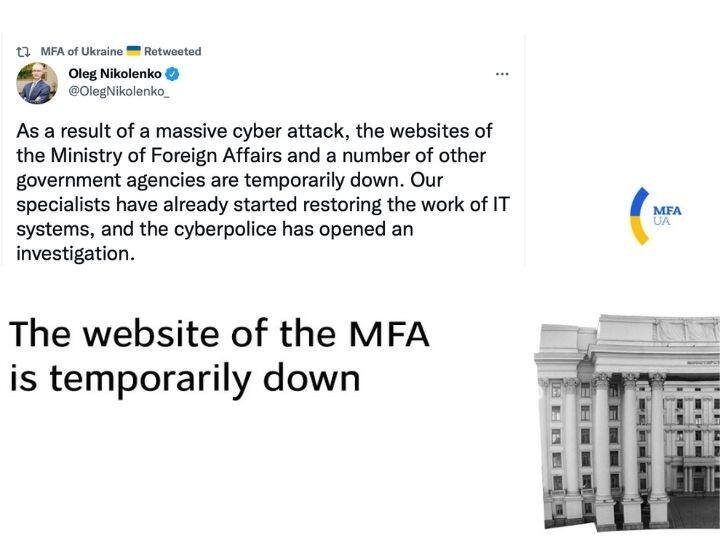 New Delhi: Ukraine has been hit by a "massive" cyber attack, with citizens being warned to "be afraid and expect the worst". This comes at a time when warring neighbour Russia has deployed more than 1 lakh troops on the border.
The websites of several Ukraine government departments, including the foreign affairs and education ministries, were found to be hacked, according to reports.
At this moment MFA Facebook and Twitter pages can be used to get official information from the ministry:
https://t.co/8tT2YCDoZehttps://t.co/j7Lk7Fy5JL

To contact MFA on consular issues:
+38 (044) 238-16-57

Contacts of embassies can be found at their social media pages pic.twitter.com/yGLwOxbZm1


— MFA of Ukraine 🇺🇦 (@MFA_Ukraine) January 14, 2022
Quoting officials, a report in The Guardian said it was too early to say who is behind this but they mentioned a "long record" of cyber assaults by Russia.
The hackers reportedly left a message on the foreign ministry website. "Ukrainians! … All information about you has become public. Be afraid and expect worse. It's your past, present and future," a screenshot posted on Twitter by a journalist read.   
The message also showed a crossed-out Ukrainian flag and a map. It also referred to "historical land" and mentioned the Ukrainian insurgent army that fought against the Soviet Union during World War II.
"As a result of a massive cyber-attack, the website of the ministry of foreign affairs and other government agencies are temporarily down," Ukraine foreign ministry spokesperson Oleg Nikolenko posted on Twitter, adding that the country's cyber police has started an investigation.
As a result of a massive cyber attack, the websites of the Ministry of Foreign Affairs and a number of other government agencies are temporarily down. Our specialists have already started restoring the work of IT systems, and the cyberpolice has opened an investigation.


— Oleg Nikolenko (@OlegNikolenko_) January 14, 2022
Condemning the attack, the European Union's top diplomat, Josep Borrell said the political and security committee of the EU, and also the cyber units, would meet to see how to help Ukraine. 
"I can't blame anybody as I have no proof, but we can imagine," new agency Reuters quoted him as saying. 
ALSO READ | Ukraine Tensions: Russia Lists Security Demands At High-Level NATO Meet, First Of Its Kind Since 2019
Ukraine Saw 2.88 Lakh Cyber Attacks In 2021
The attack comes after Russia's security talks with the US and its allies this week failed to achieve a breakthrough. The talks were convened as the Western states fear Russia could launch a new attack on Ukraine, which it invaded once in 2014. Moscow had annexed Crimea and started a war in the eastern Donbas region then.
Russia has denied any plan to attack Ukraine, but said it could take military action if its demands are not met. The demands include a promise by the NATO alliance that it will never admit Ukraine and other countries near it.
Cyber attacks are not new in Ukraine. Quoting official figures, the Guardian report said about 2.88 lakh cyber attacks took place in the first 10 months of 2021, and 3.97 lakh in 2020.