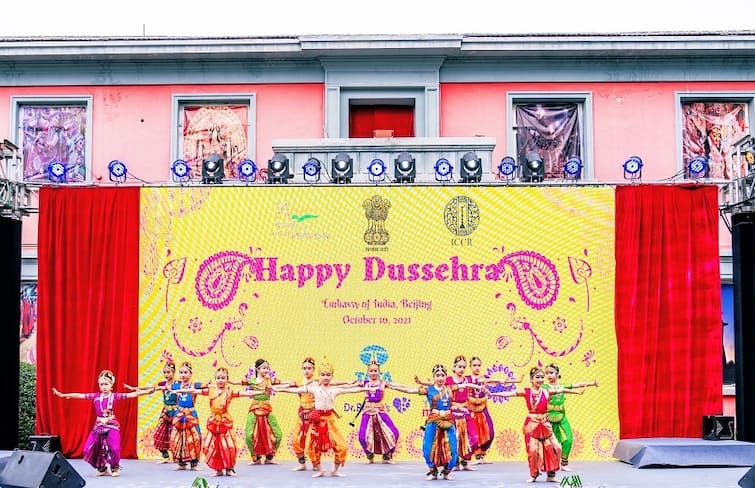 New Delhi: Nearly 2,000 people, including a large number of Beijing-based diplomats, Chinese nationals, and members of the Indian diaspora, took part in the Dussehra Mela organised at India House on Sunday as part of India's Amrut Mahotsav celebrations in Beijing. 
A highlight of the cultural programme was a stage performance of Ramleela by members of the Indian diaspora, fireworks display, and burning the effigy of Ravana, which received thunderous applause from Beijing-based diplomatic corps, officials of Chinese think tanks, besides the Indians present there. An art exhibition based on Ramayana was also organised by the embassy with support from the Lalit Kala Academy.
The sprawling lawn of India House became a lively market as families of Indian Embassy officials and other members of the Indian diaspora put up 28 makeshift stalls to sell a wide variety of Indian artifacts, carpets, ethnic jewelry and clothing, and Indian food, which was hugely popular among the international community.
Proceeds from the homemade candles, a stall put up by the embassy's Spouses Club that attracted a big crowd, would go to charities, Dolly Misri, wife of India's Ambassador Vikram Misri, said. Stalls teaching how to drape a saree and tie colorful Punjabi turbans remained greatly popular.
The cultural performance also included a Bharatanatyam performance by noted Chinese Bharatanatyam exponent Jin Shanshan and her daughter Jessica, a Kathak recital, and Bollywood dances by Cindy and Du Juan.
Indian community members also presented Tamil folk songs, Kuchipudi dance, Rajasthani folk dance, Garba, Dandiya, and dance items on Bollywood numbers.
Students from Beijing-based Indian Yoga schools demonstrated Yoga postures. A quiz on Indian cultural heritage and festivals also saw enthusiastic participation by the crowds.