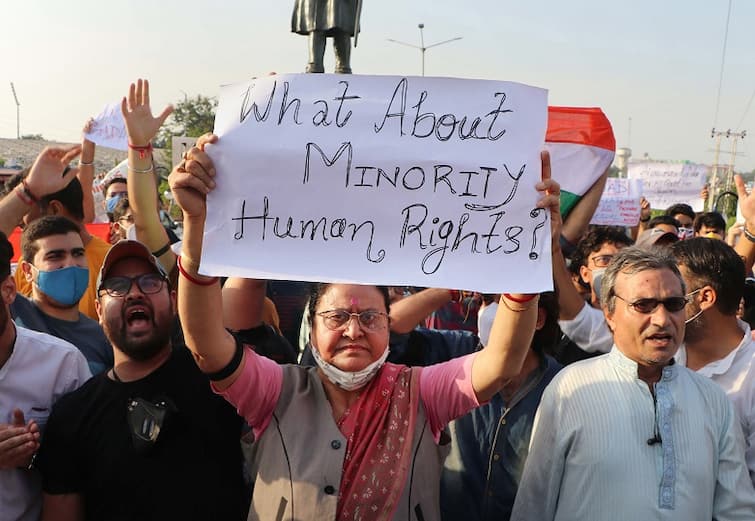 Kulgam: With attacks on minority communities increasing in Kashmir, Kashmiri Pandit and Sikh families have started to leave the Valley. 
Most of these people are government employees appointed under special packages as part of the Narendra Modi government't rehabilitation scheme for Kashmiri Pandit and Sikh communities, and they live in different colonies specifically built for them in parts of Kashmir. 
These colonies sre located in Srinagar, Budgam, Kulgam, Anantnag, Baramulla, Kupwara and Ganderbal. 
Most of these employees and their families have now started returning to places like Jammu.
Kashmiri Migrant Transit Colony at Kulgam's Vessu, which was home to over 1,000 people until a few days ago, wears a deserted look now.
'Some People Don't Want Kashmiri Pandits To Return To Valley'
Khushi Pandita, a resident of this colony who had returned to the Valley under the rehabilitation plan, went back to Jammu Monday along with her family. While leaving, she told ABP News that said she was scared of the way people were murdered in the last few days. 
Khushi said she would not come back until the environment is safe for them.
Vijay Raina, another resident of the colony, said he believed it's the "grievance portal" started by the government recently for Kashmiri Pandits that had invited trouble for the community.
The portal aims to help the Kashmiri Pandits get back the properties they had to leave and migrate several decades ago.  
According to Raina, the attacks on Kashmiri Pandits started due to this because "some people in Kashmir do not want Kashmiri Pandits to return". 
The Jammu and Kashmir Police, however, have not yet said what triggered the attacks on minorities, even as they blamed The Resistence Front (TRF) for the killings and also started an operation to catch its members.
The past week saw a string of targeted killings of civilians in Kashmir.
Near capital Srinagar, a Sikh principal and a Hindu teacher were shot dead inside their school on Thursday. According to reports, Supinder Kaur and Deepak Chand were isolated after the attackers checked their identity cards, and were then shot dead.
On Tuesday, prominent pharmacist Makhan Lal Bindroo, a Hindu, was killed at his shop in Srinagar. 
A total of seven civilians, including a Muslim taxi driver, have been killed in the recent spate of attacks.
In a statement after the killings, J&K Police chief Vijay Kumar appealed to the public, specially the minority communities, "not to panic".
They have detained hundreds of people in raids across the Valley. 
Meanwhile, five Army personnel, including a junior commissioned officer, were killed in a gunfight with terrorists during an anti-insurgency operation in Poonch district.
The operation started in a village near DKG in Surankote in the early hours after intelligence inputs about the presence of terrorists, PTI reported.
No Need To Panic: Kupwara DC, SSP
At a press conference on Monday, Kupwara Deputy Commissioner Imam Din said security cover for the minority communities have been stepped up in the district, adding that no element would be allowed to damage the social fabric and communal harmony.
Kupwara Senior Superintendent of Police Yougal Manhas was also present.
Condemning the recent killings, the DC said he along with SSP Manhas had interacted with the migrant community living in the migrant colony and other places and listened to their grievances. 
DC Imam Din said there is no need to panic, assuring all necessary support to the migrant community from the administration, the police and the public about their safety and security.
He said a nodal officer has been designated to keep liaise with the migrant community for instant redressal of their issues. 
The SSP also assured full cooperation to the minorities and said necessary security has been provided wherever required.