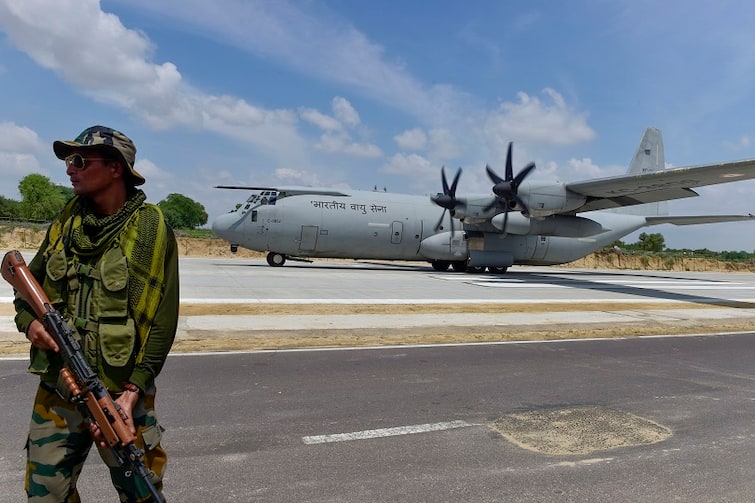 New Delhi: Defence Minister Rajnath Singh and Union Minister for Road Transport and Highways Nitin Gadkari Thursday jointly inaugurated an emergency landing facility (ELF) for the Indian Air Force (IAF) on a national highway, a first for India.
The airstrip was inaugurated on the Satta-Gandhav stretch of National Highway-925A near Barmer in Rajasthan. Singh and Gadkari travelled to Barmer on a C-130J aircraft to inaugurate the ELF and witness aircraft operations on it. 
According to a statement issued by the Ministry of Defence, the ELF has been constructed in just 19 months by GHV India Pvt Ltd under the supervision of the IAF and the National Highways Authority of India (NHAI). 
All types of IAF aircraft will be able to use the landing strip.
Gadkari, meanwhile, said such ELFs would be developed at 19 other places across India.
Speaking at the Inauguration, he said such a runway on highways will further strengthen the country's security in protecting the borders that are strategically important.
These are the 19 places where the ELFs will come up:
Phalodi-Jaisalmer road (Rajasthan)

Barmer-Jaisalmer road (Rajasthan)

Kharagpur-Balasore road (West Bengal/Odisha)

Kharagpur-Keonjhar road (West Bengal/Odisha)

Near Panagarh/KKD (West Bengal)

Chennai (Tamil Nadu)

Puducherry road

Nellore-Ongole road (Andhra Pradesh)

Ongole-Chilakaluripet road (Andhra Pradesh)

Mandi Dabwali-Odhan road (Haryana)

Sangrur (Punjab)

Bhuj-Naliya road (Gujarat)

Surat-Baroda road (Gujarat)

Banihal-Srinagar road (J&K)

Leh-Nyoma area (J&K)

Jorhat-Baraghat road (Assam)

Bagdogra-Hashimara road (Assam)

Hashimara-Tezpur route (Assam)

Hashimara-Guwahati road (Assam)
Part of Bharatmala Project
Gadkari said the construction of world-class highways is being done at record speed, adding that the national highways will also be of use to the Indian Army now, which will make the country more secure and always ready for emergency situations.
The 3-kilometre ELF stretch for the IAF was built as part of the newly-developed two-lane paved shoulder of Gagariya-Bakhasar and Satta-Gandhav sections with a total length of 196.97 km and costing Rs 765.52 crore under the Bharatmala project. The work on the stretch commenced in July 2019 and was completed by January 2021.
The ELF will be used for the smooth flow of road traffic during normal times, as it will improve connectivity between the villages of Barmer and Jalore districts located on the international border, the defence ministry said in the statement.
Apart from the landing strip, three helipads have been constructed in Kundanpura, Singhania and Bakhasar villages under this project, as sought by the armed forces.
Speaking at the inauguration, Rajnath Singh highlighted the crucial role played by the Border Roads Organisation in strengthening border infrastructure, mentioning the inauguration of the Atal Tunnel in Rohtang and the construction of the world's highest motorable road at 19,300 feet at Umlingla Pass in Eastern Ladakh as some "examples".