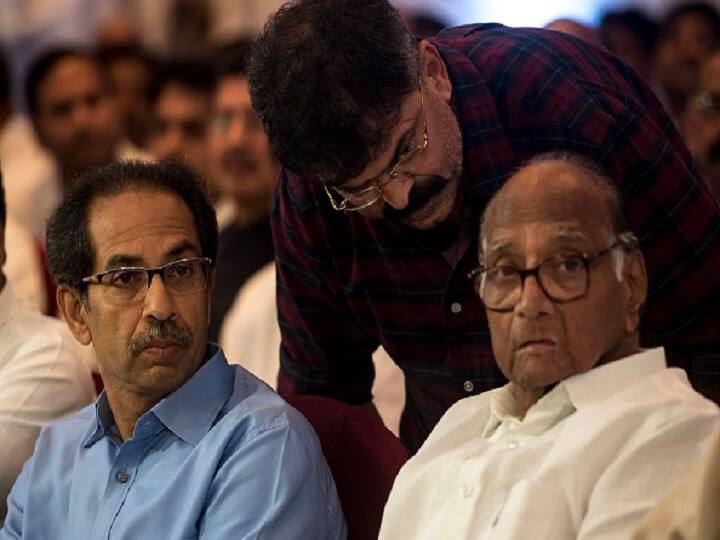 Mumbai: Amid reports of a possible rift within the Maha Vikas Aghadi (MVA) alliance, Nationalist Congress Party (NCP) supremo Sharad Pawar met Maharashtra Chief Minister Uddhav Thackeray at his residence on Thursday.
Sources said the duo during the meeting held at the Chief Minister's official residence Varsha discussed better coordination in the alliance besides other political issues.
ALSO READ | Rahul Gandhi Responds To SC's Observation On 'Colonial' Era Sedition Law
The meeting also assumes significance as it comes amid rumours suggesting that the Shiv Sena, which is currently locked in a war of words with the Congress, may consider a patch-up with its former ally the Bharatiya Janata Party (BJP).
Earlier in the day, Pawar held a meeting with his party leaders, including Deputy Chief Minister Ajit Pawar, Maharashtra Minister Aditi Tatkare and Eknath Khadse, in Mumbai.
Pawar had earlier last month also met the Maharashtra Chief Minister during which many leaders of the Maha Vikas Aghadi (MVA) government, including state's Housing Minister Jitendra Awhad, Home Minister Dilip Patil and Environment Minister Aditya Thackeray, were present.
The tussle within Maharashtra's ruling alliance went to the next level after Congress state chief Nana Patole had recently commented against the Maha Vikas Aghadi government.
Patole had said that the "expiry date" of the alliance with the Shiv Sena has come and added Uddhav Thackeray's party will have to battle it alone in the next assembly elections.
ALSO READ: 'Mamata Banerjee A Liar, Proved Before Calcutta HC': BJP MP On Post-Poll Violence, NHRC Report
At the same time, Thackeray had also criticized the Congress, saying those who talk of contesting the elections alone without solving the problems will be hit with 'footwear' by the people.
"If we do not offer solutions to people's problems but only talked about going it alone in politics, people will beat us with footwear. They will not listen to our party-centric, ambitious talk of contesting elections alone," he said last month.