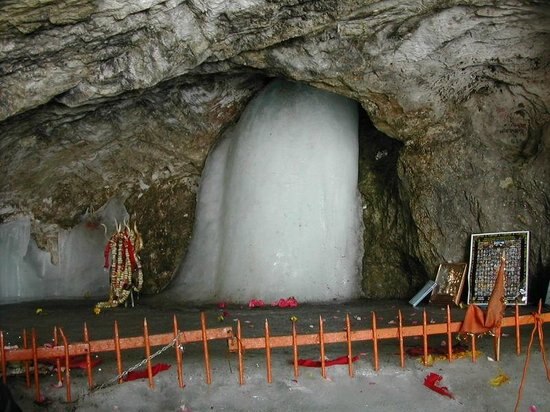 Jammu: According to early inputs, Amarnath yatra has been cancelled this year as well due to the covid-19 pandemic.
Last year too, the yatra was also cancelled due to the pandemic situation. This year, the online darshan will be available from 28th June onwards. Chadi Mubarak will be taken to the cave on 22 August.
"Jammu and Kashmir government has decided to cancel Shri Amarnath Ji Yatra; all the traditional religious rituals to be performed at the Holy Cave Shrine as per past practice,": Shri Amarnath Ji Shrine Board stated.
ALSO READ | CBSE, CISCE Class 12 Evaluation Criterion 2021: Parents, Students Flag Concerns Over Evaluation Scheme
Shri Amarnath Ji Shrine Board added that it will arrange online darshan for devotees worldwide. 
Earlier, the Indian Army had stated that it was ready for the Amarnath Yatra and has taken all necessary steps for it even as the decision to conduct the annual pilgrimage to the cave shrine lies with the civil administration.
On April 22, the Shri Amarnath Shrine Board (SASB), which organises the annual yatra, announced to "temporarily" suspend the registration of pilgrims for the pilgrimage.
The board had started registration of pilgrims online from April 15 for the Baltal and the Pahalgam routes, which lead to the cave shrine.
Kailash Kund Yatra Cancelled Last Year
The annual Kailash Kund Yatra was cancelled due to the increasing number of Covid-19 cases in the country. The authorities had allowed the 'Chhari Mubarak' procession from August 16. The 10-day pilgrimage was supposed to begin on August 8 last year via twin tracks of Chattargala and Hayan in Jammu and Kashmir's Bhaderwah but it was delayed due to the pandemic.
The temple authorities used special measures such as a maximum of 500 pilgrims per day were permitted in a graded manner from outside Jammu and Kashmir, registration of pilgrims was done only through online mode, to avoid any assembly at counters.
In this yatra, devotees travel to the Kailash Kund or lake which is located 4,700 feet in Banderwah Jammu and Kashmir. More details about this year's virtual yatra are awaited along with the official statement on the cancellation.