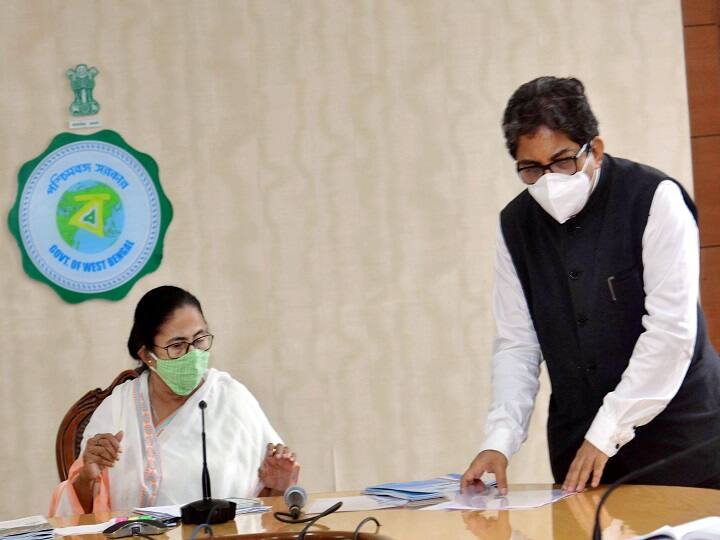 New Delhi: Amid the ongoing verbal battle with West Bengal Chief Minister Mamata Banerjee, Prime Minister Narendra Modi-led government on Tuesday issued a show-cause notice to recently retired state's chief secretary Alapan Bandyopadhyay asking him to explain his absence from Prime Minister Narendra Modi's meeting on cyclone Yaas.
An official familiar with the development said the Union Home Ministry, which has issued notice to Bandyopadhyay under the Disaster Management Act, is likely to initiate disciplinary proceedings against him for defying the order asking him to report to Delhi on Monday, news agency PTI reported.
ALSO READ | Bengal Govt Allows Liquor Shops To Open For Three Hours From Today Onwards
The 1987-batch Indian Administrative Service (IAS) officer, who has been given three days' time to respond to the show-cause notice, retired earlier on Monday as the state's chief secretary.
This development comes a day after the West Bengal Chief Minister appointed Bandyopadhyay as her chief adviser after allowing him to retire on his last working day while taking potshots at Prime Minister Modi over the bureaucrat's transfer.
Bandyopadhyay, who earlier declined a three-month extension granted to him, was recalled last week by the Centre hours after Banerjee skipped a scheduled meeting on cyclone Yaas with Prime Minister Modi.
ALSO READ | 'All Concerns Will Be Addressed': Amit Shah Assures On Resolving Lakshadweep Crisis
The Chief Minister has since emphasized that she had other scheduled meetings and had to fly out for those at the earliest due to bad weather. The Trinamool Congress (TMC) supremo has also categorically stated that she left only with Prime Minister Modi's permission.
The Centre later lashed out at her for behaving in an "ugly, disrespectful and arrogant manner" and insulting the Prime Minister with Union Ministers Amit Shah and Rajnath Singh leading the charge.