Patna: Chief Minister Nitish Kumar-led National Democratic Alliance (NDA) government expanded its cabinet on Tuesday with Bharatiya Janana Party (BJP) leader Shahnawaz Hussain taking oath of office by Governor Phagu Chauhan during a ceremony in Raj Bhavan. As per reports, as many as 17 new minister were included in the cabinet ahead of Bihar's Budget session. ALSO READ | Rajeev Kapoor Passes Away At 58: Neetu Kapoor, Lata Mangeshkar Offer Tributes
Apart from Hussain, other leaders who took oath during the latest cabinet expansion include late Bollywood actor Sushant Singh Rajput's cousin Neeraj Singh Babloo, former Bihar minister Pramod Kumar, Nitin Navin, Sumit Kumar Singh, Jama Khan and others.
This is the first cabinet expansion of Nitish Kumar government in Bihar ever since it returned to power in November 2020 Assembly Elections. Chief Minister took oath along with 14 other ministers last year. 
Here's the full list of ministers included in Nitish Kumar's cabinet expansion today:
Syed Shahnawaz Hussain: BJP's national spokesperson Hussain was the first minister to take oath in today's cabinet expansion. He took oath as Industries minister. 
Shrawan Kumar: BJP leader Shrawan Kumar was included in the new cabinet as he took oath as Rural Development minister in Nitish Kumar's cabinet.
Madan Sahni: Janata Dal United (JDU) MLA from Bahadurpur was also included in new cabinet as Social Welfare minister. 
Pramod Kumar: BJP MLA from Motihari took charge of Law ministry & Sugar Industries.
Sanjay Kumar Jha: JDU leader Jha took oath as Water Resources & Information and Broadcasting.
Check the remaining portfolios below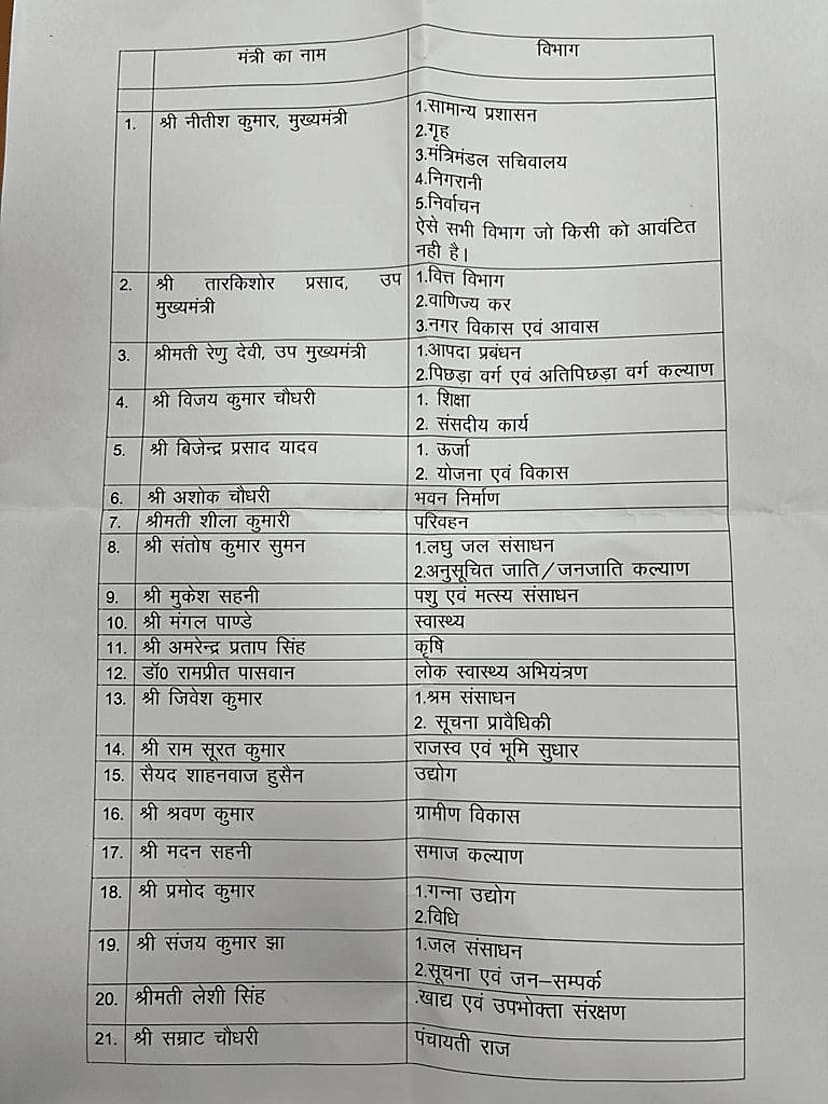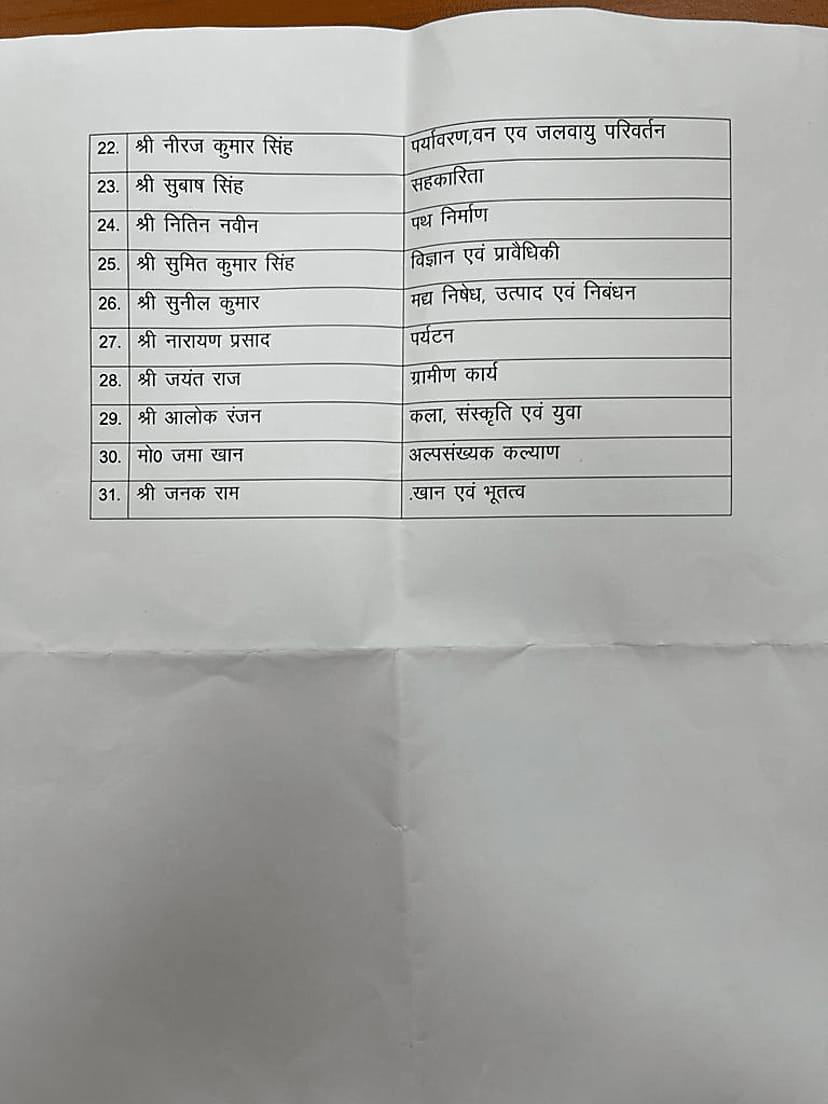 Hussain was among nine inductees from the quota of the BJP in Bihar Assembly which now has 20 members in the state cabinet. Meanwhile, JDU which suffered massive loss of seats in Bihar Assembly elections settled for eight and has been left with 12 members in the cabinet. As per rule, the state cabinet can have up to 36 members including the chief minister.
With the recent expansion, strength of Bihar cabinet has now risen to 34. One member each was inducted from the quotas of smaller allies Hindustani Awam Morcha (HAM) and Vikassheel Insaan Party (VIP) when the cabinet was formed in November last. JDU leaders Madan Sahni and Lesi Singh also returned as ministers.
Sunil Kumar, a former IPS officer who joined the JD(U) last year shortly after retiring from DG rank and Jayant Raj, a 35-year-old who is among the youngest party MLAs, have also been given ministerial berths.