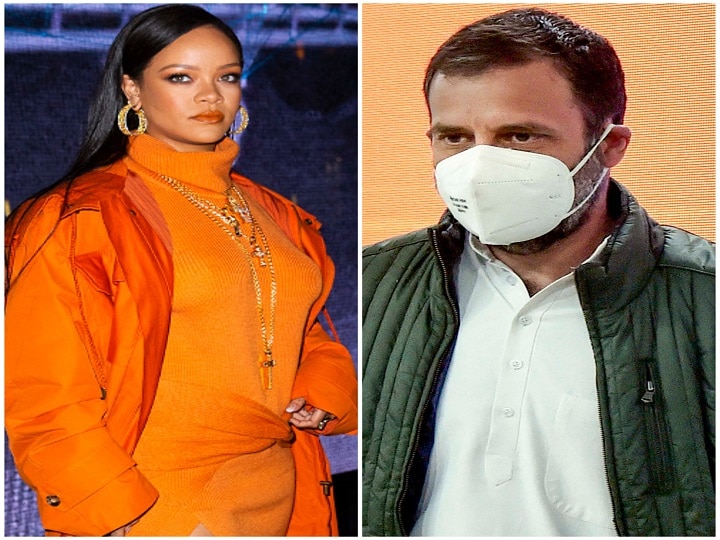 New Delhi: Hitting back at the Opposition and international celebrities over its handling of the farmers' protest, Bharatiya Janata Party (BJP) on Wednesday slammed the "propaganda and false narratives" to instigate the farmers and also accused the former Congress president Rahul Gandhi of conspiring with anti-India elements during his trips abroad. ALSO READ | 'Comments Not Accurate Nor Responsible': India Slams Rihanna, Greta Thunberg's Tweet Over Farmers Protest
While speaking at a press conference, BJP spokesperson Sambit Patra teared into Rahul Gandhi over his recent attack on the government over the farmers' issue. "He goes abroad to hatch conspiracy with anti-India elements as to how to defame India and drag the country into controversies," Patra alleged.
Patra's remarks came hours after Rahul Gandhi addressed a press conference and said that India's image has taken a hit internationally due to the government's handling of the farmers issue with apathy. Gandhi, however, rejected the tweets made by international celebrities on the issue calling it to be country's internal matter.
The title of this press conference is "Rahul, Rihanna and racket," Patra said, accusing Gandhi of using farmers' protests for his political interests and instigating people.
Be it Rihanna, an international pop singer, or former adult star Mia Khalifa or others like them who have tweeted, Rahul Gandhi meets these people for anti-India propaganda, he claimed. The BJP leader also said that when farmers have been saying that they have nothing to do with politics, why is Gandhi showing his "immaturity" by trying to talk on their behalf.
ALSO READ | Election Commission May Declare Dates For West Bengal Elections Within One Week, Says Mamata
When asked by reporters about Gandhi's allegation that there is no leadership in the country, Patra mocked him and said that he might have the Congress on his mind.
Further hitting out at Congress leader for his allegation that Centre wants to "kill" farmers, Patra said the Delhi Police acted with admirable restraint and noted that over 28 farmers were killed in a police firing in 1998 in Madhya Pradesh when the Congress was in power.
It all started when Rihanna, who has 100 million followers on Twitter and is among the most followed people on the microblogging site, on Tuesday tweeted, "why aren't we talking about this?! #FarmersProtest, linking a CNN report on the internet shutdown near the protest site.
Later, Swedish environmental activist Greta Thunberg and adult star Mia Khalifa also extended their support to the movement.
Thousands of farmers, mainly from Punjab and Haryana, have been camping at several Delhi border points since November last year, demanding the government to repeal the three farm laws and legal guarantee of minimum support price (MSP) for their crops.